SELECTED GOLDSMITHS AND JEWELLERY DESIGNERS TO PRESENT THEIR LATEST CREATIONS AND TRENDS AT OUR THEMED "PHILIPP BECKER AREA".
Effectives ways to broaden your product range – with something for every retailer!
New to the group is Sayara Montemurro, a graduate of Trier University of Applied Sciences (Subject: Gemstones and Jewellery), who quickly made a name for herself through countless publications. Her unconventional interpretations of jewellery and gemstone design are leading the way forward.
For Esther Ackermann, the centre of her work is the stone. She reads the stones before processing them until she has found the right way to process them. Then she decides on the further processing into jewellery, whereby the processed metal is primarily just a frame for the stone to make it wearable. "Creating jewellery is like a journey of discovery that begins with a thought and undergoes constant change until the finished work. It is important to me that the interplay of metal and stone creates a unified image that works as an aesthetic whole," says Ackermann.
Tanja Friedrichs creates delicate and fine as well as bold and expressive jewellery almost entirely from beaded wire – a decorative material which has a long tradition in goldsmithery and is made specifically for her collection in silver as well as yellow, rose and palladium white gold.

At INOVA COLLECTION 2021, the designer is showcasing her new collection – MIRROW -. Matt and light as a feather, MIRROW complements the familiar spherical design. The individual rings are cuddly and fit snugly around the finger. The namesakes of the collection are undoubtedly the earrings, whose shape is reminiscent of a hand mirror or, framed with diamonds, of an illuminated wardrobe mirror. The oval shape that results from the manufacturing process is always individual and shows minimal differences down to each individual facet, unique like a mirror image.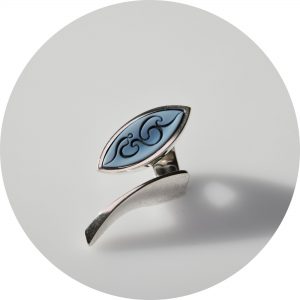 Gemstone engravings between tradition and modernity. Andrea Sohne's works are characterised by ornaments, clear images and strong symbols. With traditional craftsmanship and precision, she presents classic gems with new motifs and thus develops her very own formal language.
Roland Simons, whose studio is located in Wegberg close to the Dutch border, is shining a light on his collection of necklaces in silver, gold and platinum alloys. They are made in small series and display a strong passion and love for the art. Interweaving, infinitely knotted band is transformed by hand into unique pieces of jewellery. Characterised by an unmistakable design vocabulary, the chains are guaranteed to catch the eye and are an individual statement of the wearer.
KLEINOD JEWELLERY BY STEFFI KING AND ANDREAS KRIECHBAUM
Trading under the name of Kleinod, Steffi King and Andreas Kriechbaum run their studio in Constance together. They make individual pieces of jewellery with traditional techniques, as well as wedding bands, eternity rings and engagement rings.
PHILIPP BECKER | FRITZ WILSHAUS
Last but not least, gemstone specialist Philipp Becker. For many years now, this company's fortunes have been steered by Friedrich M. G. Wilshaus, who is widely known in the industry simply as 'Fritz'. Considered one of the pioneers of the 'new German coloured gemstone wave', Fritz has had a high standing within the industry since pouring his ideas into the gemstone sector in the 1980s. His artistic interpretations of stone cutting are a source of inspiration to many jewellers. He will be showing his most recent works at INOVA COLLECTION 2021.